Life Scientific newsletter for August
As harvest gets underway we would like to wish everyone a successful and safe August.
Here at Life Scientific, we are looking forward to the start of autumn briefings, with more subjects and products than ever to update you on.
We currently have 6 new registration applications with CRD, with a mix of reverse-engineered and novel products, all of which we hope to see approved later this year. These include fungicides, herbicides and insecticides that have been requested by our customers.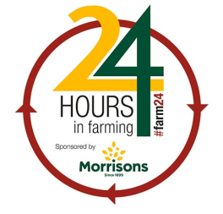 We are pleased to support 24 Hours in farming (#farm24), the digital forum showing all things farming-related.
It starts at 5am on 3rd August allowing the public and consumers to see what happens in a typical day on UK farms.
Farmers and anyone involved in the industry can post to show what they are doing at any time of the day.
Sponsored by Morrisons, this is a great showcase for UK agriculture.
Cabbage Stem Flea Beetle
As usual at this time of year, we are receiving a number of questions regarding the use of LAMBDASTAR (lambda-cyhalothrin) to help with control of Cabbage Stem Flea Beetle in oilseed rape.
Allowing any oilseed rape crop to establish must rely on an integrated approach to pest management which includes cultivation, variety, sowing date and, where appropriate, the use of a pyrethroid insecticide approved for use against the pest in oilseed rape, such as LAMBDASTAR.
Sowing the crop early (early August) gives the crop a chance to establish before significant numbers of the pest appear, whilst sowing from mid-September means that the crop may establish after numbers of the pest are at their highest.
The percentage of pyrethroid-resistant pests in the population can vary depending on region. Below is a map from AHDB's website (https://ahdb.org.uk) based on published work from Wills et al in 2020 showing results from across the UK in 2019. Higher levels of resistance mean potentially lower levels of efficacy from pyrethroid sprays and you will know best what results you have achieved with pyrethroid sprays on your farm.
To get an early indication of likely populations, it can be useful to check harvested seed for adults and it is important to monitor for adult shot-holing damage in the growing crop and volunteers.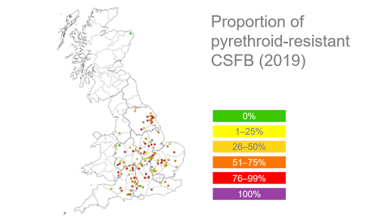 The crop is most at risk during early emergence and, if under pressure at this stage, it may be worth applying an insecticide.
If a spray is considered appropriate, then it must be used at full recommended rate and according to treatment thresholds, as can be found in AHDB's guidance.